This DIY enamel pots makeover is as quick and beautiful as this post is 🙂
Using enameled cast iron cookware
I like to use enameled cast iron cookware, it`s so pretty and . . . homey, and reminds me of those delicious meals my grandma used to cook (although it usually contains the concoction I make, which is far from granny`s food

).
Furthermore, high quality enamel pots are non-toxic, environment-friendly, resistant to stains and scratches, easy to clean but only as long as they are treated gently, with love 🙂
Otherwise, the coating on an enameled piece of cookware might crack if one drops it, or puts it on the cooker straight out of the fridge, or cleans it inappropriately (using metal utensils, toxic detergents, overheating it).
When it`s better to use it as a planter
If the inside of the pot cracks or chips, the enamel could chip into your food or the cookware could start rusting.
We still have some light turquoise wall paint leftover. It`s an acrylic water-soluble paint. It`s texture makes a soft authentic pottery tactile touch. I decided to give it a try on our old chipped polka dot and other enamel pots.
This post contains affiliate links. For more information, see my disclosures here.
*Tip: If you happened not to have acrylic paint leftovers at home 🙂 I`ve found the cheapest one on Amazon for the US here, and here for the EU (you`re gonna need minimum two bottles for a two litre (half-gallon) pot as in this project. You can choose one of the 36 colours).
Painting the pots
First, I washed the pots thoroughly and let them dry.
Then, applied the cheapest spray paint directly on the rust spots, let them dry and applied a second coat if needed (if the spots are quite big).  
Then I painted the handles and the sides of the pots, then the bottom. When the bottom was dry, I flipped the pots over and painted their upper inner sides (just till the future soil level).
Repeated these steps several times to thoroughly cover the old red colour. The sun was really helpful here, because the acrylic paint dried with the speed of a flash.
It turned out something like this
But something was missing. . .
Then I applied some glue on the pot and partially wrapped it in a natural jute twine.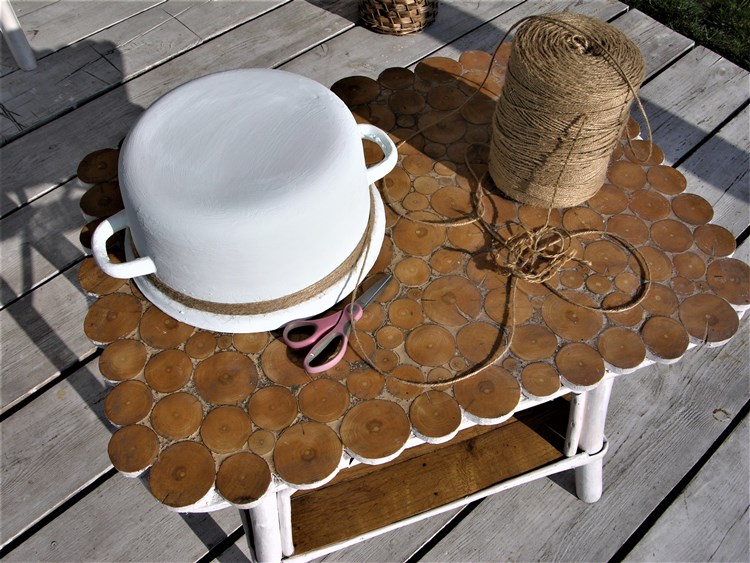 Now it looks complete. . .
I liked this little one so much, that took my mom`s old enamelled Dutch ovens and made these beautiful planters out of them (of course I made a little casserole upgrade for her instead).
Just couldn`t stop. . .
If we didn`t have this acrylic paint at home, I would`ve tried to mix any other paint (not spray) with some flour, baking powder or lime/chalk powder. Like I`ve tackled with the colour and the texture here.
Experiment and share!