A green, furry natural carpet is probably the first thing one pictures when talking about the yard. A lawn mower is the essential device for keeping it that way. After all, even a weedy and patchy lawn looks more appealing when the grass is cut.
Possible reasons for wheel loss
Sometimes, the wheels of a lawn mower start wobbling, break, or even fall off. Those may be caused by aging, wearing out, or neurotic lawn mower sprints over the uneven terrain, because there`s always a lack of time for mowing for those, who are not particular fans of mowing. The last one is sort of my case 😆 .
We have a simple inexpensive electric rotary mower which absolutely fits our needs (especially when I don't get time to cut the grass in between the shower rains and it grows like Topsy 😯 ).
On one fine sunny day, while I was light-heartedly dragging the mower back and forwards on the lawn, the front left wheel just fell off all of a sudden. Fortunately, I found the push on washer that was retaining the wheel on the axle and put it back on, but. . . it didn`t help for a long. I even tried to tilt the mower a bit to the side of the broken wheel, while moving (it doesn`t work. And dragging the mower on three wheels on the grass doesn`t work too. Checked).
After putting the washer back for several times, I finally lost it.
Solutions
One, of course, can buy a new washer.
But I decided to fix it once and for all.
With what we had at home, as always.
The angle grinder with a metal cutting disc on it, a piece of 1,5 mm (16 gauge) binding wire and safety goggles with work gloves, of course.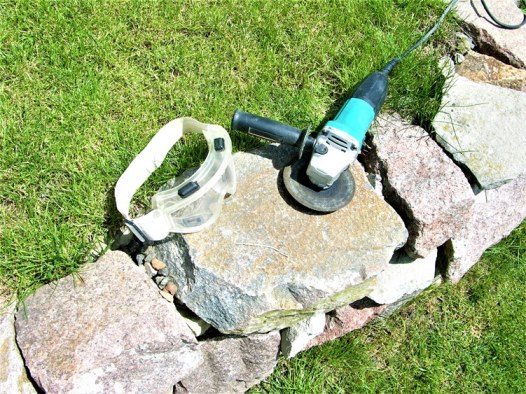 A hacksaw instead of the grinder will do too, only would it take a bit more time.
Still. . . how to reunite the lawn mower and its wheel?
*Important! Wear personal protective equipment such as safety goggles and gloves to protect against hazards that may be encountered while using hand tools.
1. Unplug the lawn mower, if it is electric like mine, or disconnect the spark plug wire, if it is a petrol-powered lawn mower.
2. First, slide the wheel off the axle (if it is still holding on). Remove the axle off the mower. It can also be simply slid off.
3. Indent about 3 mm (1/8″) from the edge of the axle and cut an approximately 1 mm (3/64″) deep and 1 mm (3/64″) wide notch with the angle grinder.
4. Slide the axle shaft back on its place.
5. Slide the wheel back on its place.
6. Take an about 5 cm (2″) long piece of binding wire (or any hard wire you find at home) and bend it around the notch you made on the axle, applying pliers. I made two turns, because the binding wire is hard and inconvenient to operate, even using the pliers.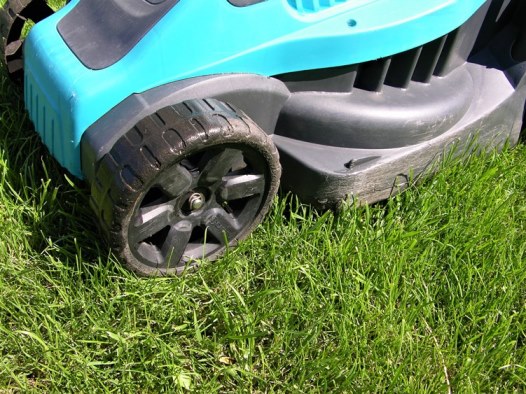 *Tip: Don`t apply oil, grease or any other lubricant to the axle, because dirt sticks to those.
The wire sticks in the notch on the axle and doesn't let the wheel slide off even if you are an absolute hit-and-run lawn mower driver.
A little secret to a lush, green lawn
Mow and water your lawn oftentimes, because this is what lawn grass likes and weeds don't. I discovered that with the leakage of the garden hose. The grass under it obviously was being watered consistently, growing fast and, consequently, I had to mow it time and again.
Pin for later!
Not a single piece of weed turned up on that patch, and the grass looked and felt like one of those shaggy and fluffy carpets with long fibres.
But, as a lazy gardener, I water the grass at the evening of the day it was mowed and every once in a while after: less watering – slow growing – less mowing.
P.S. This post was inspired by a cousin of mine, who had the same problem and fixed it by this guidance faster than he read it 🙂 .