A dripping tap can be very irritating, besides it does harm the ecology and your budget as well. Though repairing a ceramic disc tap is a pretty easy job.
Here`s, I hope, an informative video on how to fix that problem.
And here`s a written instruction for those who (just like me) don`t really like video tutorials.
Preparations
Take a deep breath 🙂
Switch off the water by turning the isolation valve off.
Open the taps to make sure all water is gone.
Plug the drain to make sure nothing falls down into the plug hole.
Disassembling the tap
Wrap the faucet handle in scrap of cloth.
Fit an adjustable spanner (or pliers like I did) around the handle and unscrew it by turning counterclockwise.
Take off the cap.
Unscrew the ceramic disc stem cartridge with a wrench (I used an open-ring spanner).
Fixing the cartridge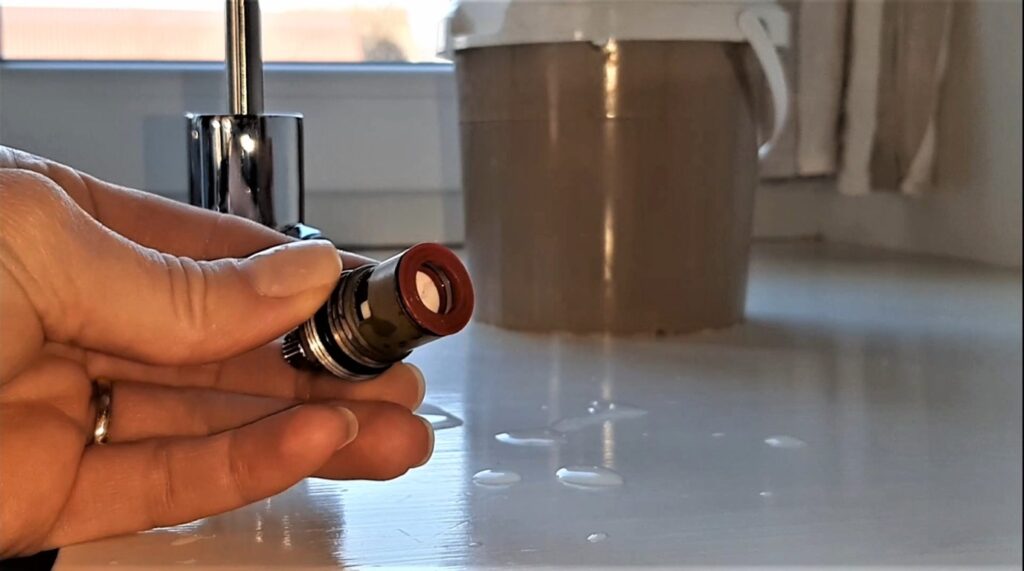 Here it is – the evil cartridge 🙂 You can buy a new one (about 8-10$) or fix this one (feel no fear, it`s really easy). Often there`s nothing wrong with the cartridge itself, so you just have to clean out all the debris and clean the cartridge from limescale and rust with this simple and very effective solution.
This post contains affiliate links. For more information, see my disclosures here.
You can find Citric Acid Powder for the cleaning solution in your local supermarket, usually in the canning section. Or buy it online here.
We`re going to need a flat screwdriver or just a knife. Take off the o`ring, then, using the knife, take out the ceramic discs. Put all the parts of the cartridge into the citric acid solution, let them soak for about 40 minutes then clean them with a toothbrush.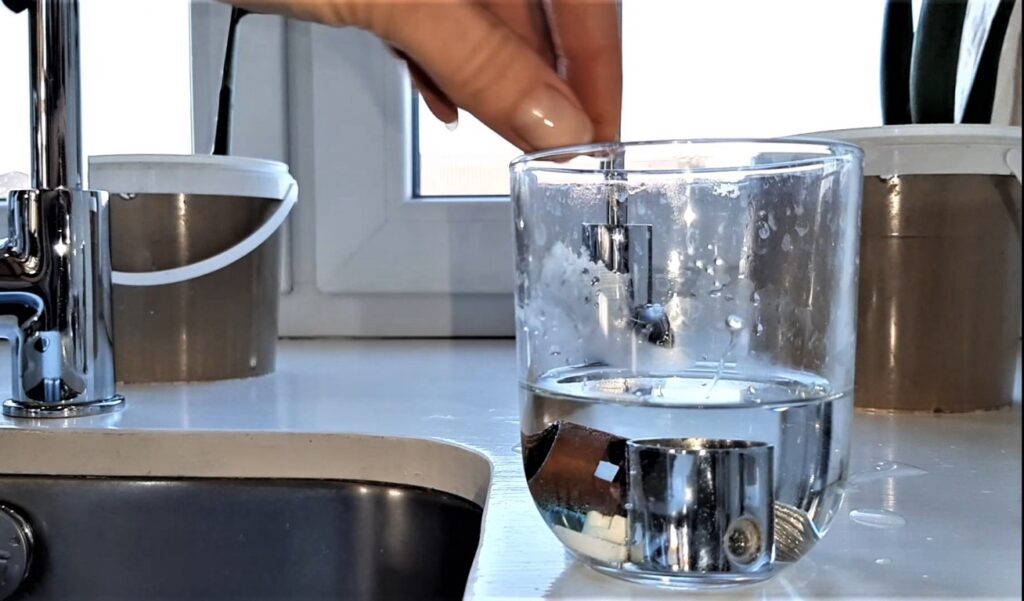 Additional gasket
Sometimes we need to bring out the heavy artillery to make sure the tap won`t be leaking for some time, so we`re going to make an additional gasket of an electrical tape. When all the parts are clean, let the upper ceramic disc dry. Cut two 2mm x 5mm out of the electrical tape and stick them to the top of the upper ceramic disc.
Reassembling the cartridge
Put the discs back. Pay attention to the sides and the sequence of the ceramic discs. Put the sealing ring back. Tighten the retainer nut of the cartridge. Put on the cap and screw back the little handle. Turn the isolation valve on. Turn on the faucet.
Don`t forget to unplug the drain.
Voila, enjoy the silence!
*Music used with permission of Relax MusicBox.
Original soundtrack here. All rights reserved.