This turbulent year, with all our wanderings in search of a shelter, even St. Nicholas was a little late to us, because he could not find the place where we stay 🙂 . We celebrate this Christmas not at home. Not with the cherished DIY decorations, not with hot tea on the cosy terrace in a DIY porch swing under a warm blanket, not with the Christmas tree wrapped in the lanterns of warm white light I`ve been craving for so long. . .
But eventually, as it turned out, home – is where we are. And, to have a warm endearing holiday, we do not need tons of possessions or a tight wallet. All we need is our beloved ones and a little creativity (and some luck not to get busted by the local law enforcement agencies when stealing a few fir branches from the local park. Just kidding. Or not).
It`s all about the fir
One can use fir, spruce or pine twigs as well (you can find out How to tell them apart here).
I don`t think I could figure something out with some short flat branches. Instead, we got some luck to find fluffy fir branches with thin thus pliable stems.
This pile contains four twigs about 40 cm (16″) long, five twigs of 30 cm (12″) long and a couple of short 20 cm (8″) twigs that broke off during the first attempts to weave the wreath. It turned out to be just enough for a wreath of almost 50 cm (20″) in diameter.
Where to get free fir twigs for a wreath
On the local Christmas tree lot ask them if you can have some clippings and smile wide.
Or, as a friend of mine did, – ask in the local Facebook groups if someone makes a seasonal pruning (someone even throws away or burns that treasure 😮 ).
*Tip: If you can`t find conifers for free, you can use any kind of evergreen trimmings, such as ivy, boxwood, cedar, even moth or anything you`re lucky to have in your (or your neighbour`s 😉 ) yard.
Also, you can buy ready-made wreathes at discounted price starting from the second Advent week. The traders sell them up to 4 times cheaper due to demand decrease.
Pine cones
Well, these ones you definitely can get for free in the local park – they are lying all around under the conifers.
But the problem is, that at this time of the year, when there`s high humidity and cold outside, the cones are closed.
How to open pine cones
First, I rinsed them with hot water (to get rid of dirt and some mould you might need a brush).
The Web suggests to dry them in an oven. But we don`t have one currently, so I put the cones on the radiator for a night. And that`s how I found them the very next day:
To dry pine cones you can use any inflammable heating device, such as an oil radiator or a convector heater.
Braid the fir twigs
Yes, we`re using no wreath base – just the twigs.
As the branches are of a different length and lush, we`re going to use them all at once, in order to bind them tight and make the wreath even, more or less.
First, tie three branches of different lengths at one end.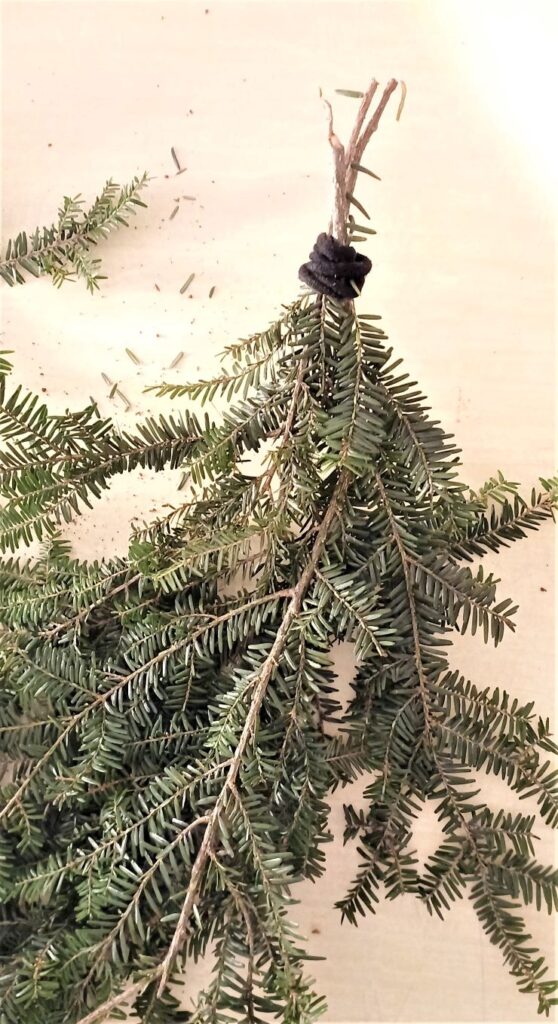 Braid the stems together just as you braid your hair.
For this, cross the right twig over the middle twig. Then cross the left twig over the middle twig (which used to be the right one). Continue the braid alternating the right and the left twigs.
As you work your way down, take a new long twig to prolong the shortest twig.
Then take the middle-length twig to prolong the next one that got short. And so on until you`re out of twigs.
To connect the ending and the starting point of your wreath, tuck the twig that`s left in between the stems of the first loop. And here`s our fir twig wreath:
Gently pull out the small side twigs out of the braid to give the wreath more volume.
Now we need to make it a fresh Christmas wreath 🙂
Decorations
I used, what I had at home plus bought red Christmas candles (2$ for 20 pcs), which made the whole wreath budget, and the pine cones from the park.
The cones I just glued to the wreath with a glue on even distances from each other.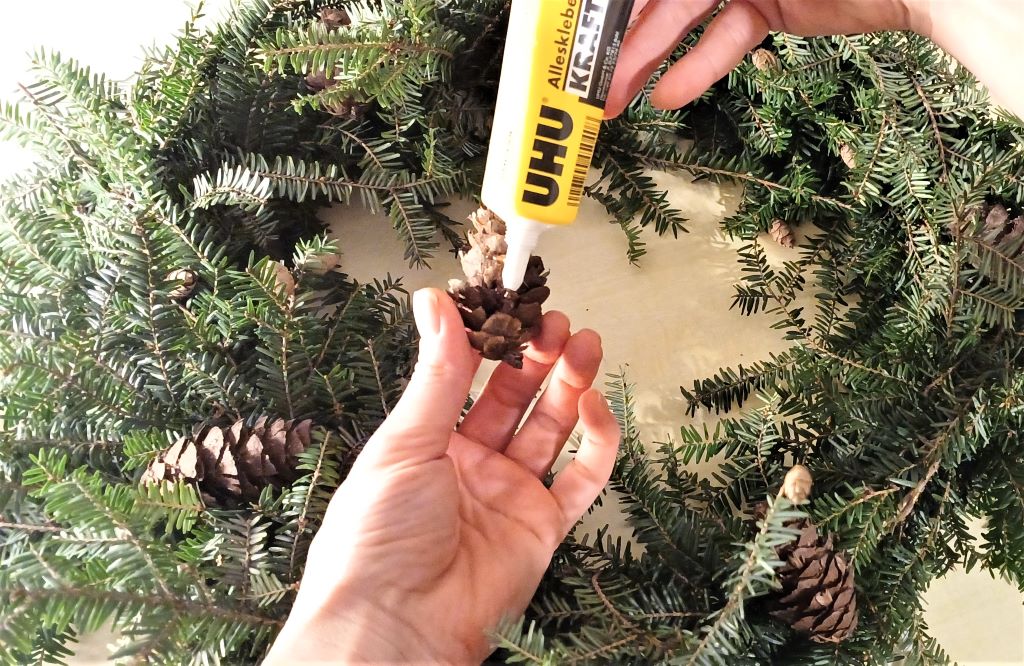 When the glue was dry, I tied four candles to the wreath with a red ribbon and made a bow for each of them.
To hang the wreath, I used a jute yarn and also tied a ribbon bow over it.
To make the wreath last a little longer sprinkle some water on it every once in a while. I do it every other day, when it comes to my mind.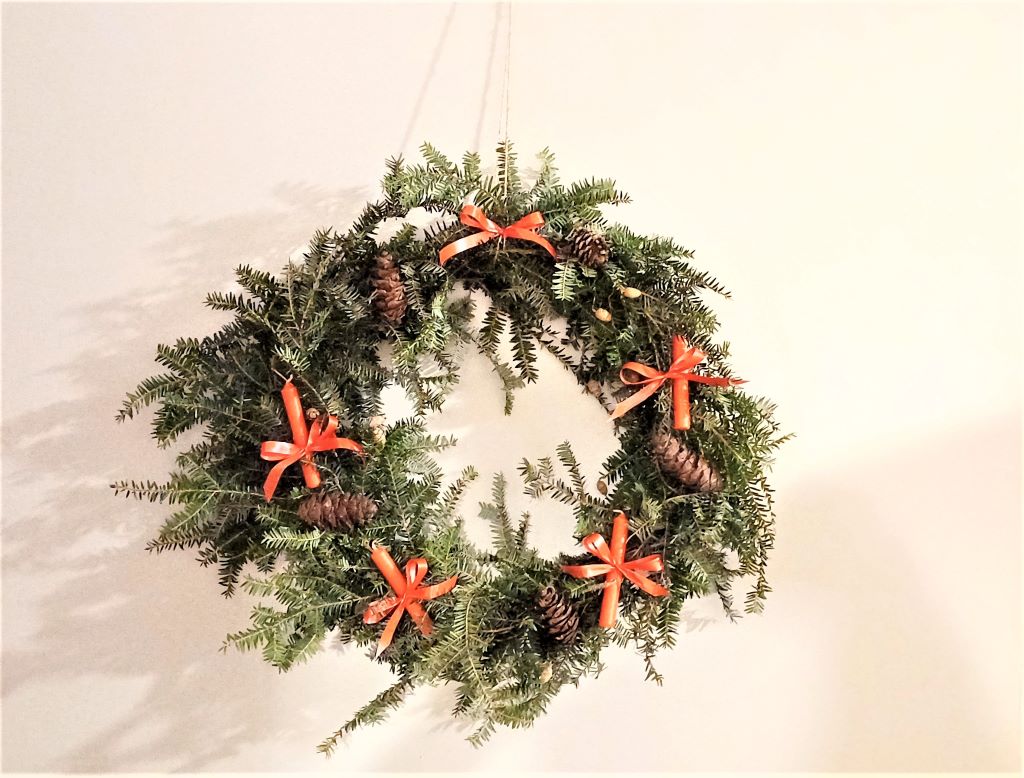 I wish I could hang it on the door of my house. . . And I wish everyone to spend delightful Christmas Eves with their families, it is so important. . .