Rules? Never heard of them!
Your home is the manifestation of your exceptional personality.
These clauses below are rather some cautionary principles I remind myself when losing heart or trying to complicate things 😆 :
The main one, where people usually stumble – lack of confidence. But. . . YOU CAN DO IT! At least, you never know, how talented you are if you don`t try 😉 . Some of my projects seemed for me impossible to make (for instance the interfloor overlapping: there were just wooden beams installed by the construction crew and I hadto put the insulation, install the edged board, plywood and so on to make a floor to walk on). The hardest part is to concentrate and to start, not to accomplish the work.
Rush is harsh. If you have some big project to make (cute fancy boxes don`t count) – take your time, think over it, draw it in your notebook, count how much money you need to spend on it.
Make it simple. I mean if you like carving huge fields of flowers on a wooden board, then go ahead let your imagination fly. But there`s a lot of work to do, and if you want to live in your house now and not when you have grand kids, then try to make everything max simple so to spend min time and efforts to use it and repair if needed.
Watch your expenditures. I always compare how much I would spend if I do it myself with the items price in the shop or the price for the service performed by a professional. For example who doesn`t like fancy wicker baskets? If you don`t have a willow growing next to your house, and not exactly enjoy weaving, then just stop by your IKEAbestfriend, where you can always find some discounts.
It never works at once. Some may think "big deal – to put a couple of wooden planks together". But actually just to find those planks is a big deal, then to cut, sand, paint, put them together, attach them to the concrete wall or elsewhere. It`s a lot of work. Sometimes you should try to make it again and again, redo it several times. But it`s worth it!
Don`t use faux and unreliable materials. You`ll waste your time and money (if you buy it) because it won`t last even for a while, there will be no chance to fix and redo it.
Use what you have. If we buy all the expensive fancy tools for the projects – then where`s being thrifty here?!
Make contrasts. In colours (dark saturated colours look engaging on white backgrounds), shapes, materials (cold stainless steel edging with warm pine wood).
Focus on what you`re doing AT THE MOMENT! If you are like me, then maybe every single square inch of your house that catches your eye is immediately rebuilt, redone, replaced, repainted, improved, reconstructed in your mind. When you see those pictures chaotically passing by – stop them right away. If you`re not ready to do the job right now then forget about it till you are. Because you can`t hold it all in your mind.
Don`t let the critics get you upset. Remember THIS IS YOUR BELOVED HOME, you may do there everything YOU and PEOPLE YOU LOVE are comfortable with.
It`s a lot of fun. You make up something, start doing it, you fail, make up something differently, you fail again, then it starts working, but something`s wrong again, and you send it to hell 😆 .
Things you make are unique and you`ll love them even if they`re not perfect. I would never change the pallet sofa or bed I made on my own to any other, even the most expensive common branded one!
Making your home with your own hands makes you feel better, raises your self-esteem and boosts your confidence, and, a pleasant bonus – keeps you in a good shape without any diet or gym.
Sometimes we all get upset about something or maybe even feel miserable, but in your DIY home, you can just look at what you`ve done – your kids and your home, and the sun seems to shine more brightly (tip: bright interior colours are very helpful). So don't forget to take time to admire your work (for example, in a cosy DIY porch swing).
I hope this would be helpful.
P.S. Our backyard2021st on the head pic.
Backyard 2019 – a year after this backyard2018: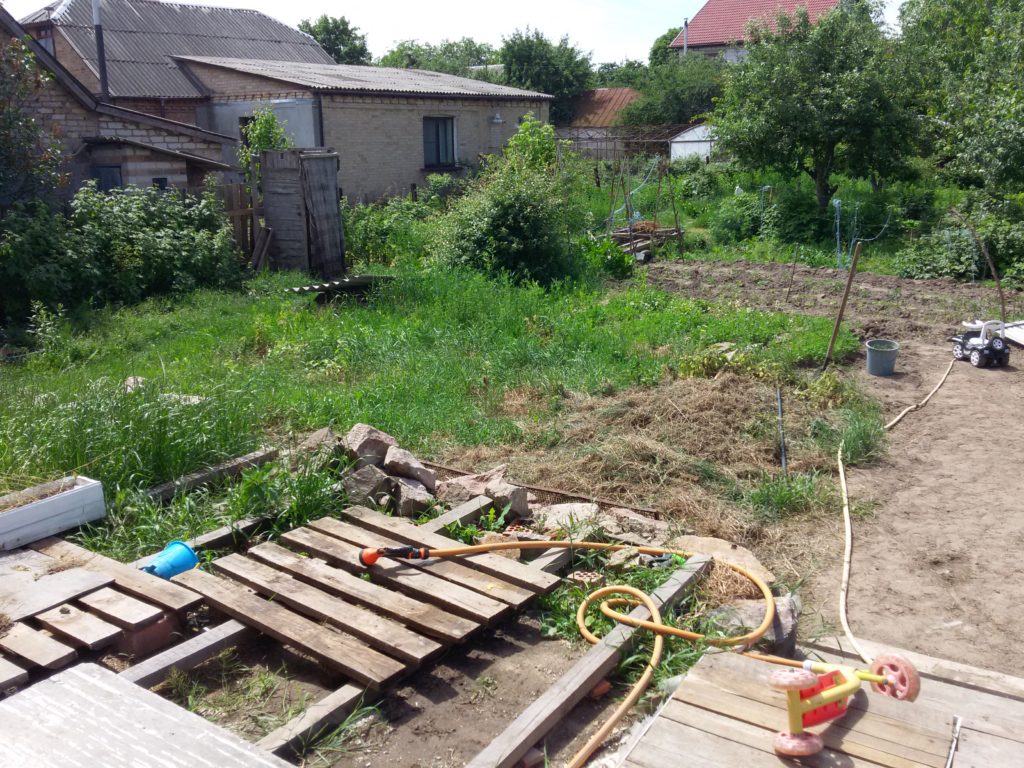 P.P.S. Still working on it )