Who would reject the convenience of pull-out drawers and baskets?! But what about shelves? I`ve found thousand results for "pull out shelves" but none of them showed me the "pull-out open shelves". After all who needs an open shelf to be pulled out?! Well, I do.
Although we prefer built-in and integrated appliances we have a lot of open shelves in the kitchen, including the lower kitchen cabinets, partially they`re open too. But what if the shelves are too deep?
In closed lower cabinets you can simply make pull-out drawers with ordinary ball-bearing slides. But the shelves are too thin (most cabinet shelves top out at ¾″ (18 mm) thick). There seemed to be no way to hide those wide slides (although they come 2″ (45 mm) and 1 1/16″ (27 mm) wide as well) and buy really expensive undermount slides, which was not an option at all 🙁
Thin grooved ball-bearing slides
Recently I took a walk to the local hardware store (which is more preferable than any other store in the world for me, except maybe the candy store 😀 ) and came across thin grooved ball-bearing slides. They are less than ¾″ (17 mm) wide and are up to 20″ (50 mm) long. The best part was that they were extremely cheap. I decided to give it a try.
There are also some disadvantages of these thin slides:
They cannot be split up. That means you`ll have to unscrew the shelves before taking them off (in case you`ll need to take them off 🙂 ).
They have a low 22 lb (10 kg) load rating.
I`ve seen only partial extension thin runners.
The shelf/drawer box mount slide has holes for screws on both ends. But as we cannot separate it from the wall-mount runner we cannot use the hole on the other end. So I made additional hole in the max opened position with a 1/8″ (3 mm) metal drill bit which took me five minutes for each hole (including coffee brakes).
So I took out the shelves and mounted two pairs of these thin 1 ¾″ (45 mm) long slides for 20″ (50 mm) deep shelves on our brick cabinet walls. The full instruction on How to mount ball-bearing slides on a brick wall are here.
Shelves
The shelves are made of ¾″ (18 mm) thick beech wood (the countertops leftovers). Which means there`s only 1 mm left to cover the runners if we make a groove for the slides in them. But it`s ok, it wouldn`t break down because beech is quite firm and it wouldn`t hold any weight. The shelf lays upon the drawer slides but they are screwed to the sides of the shelves.
How to cut a notch in wood with a router
There are several ways to cut a notch in wood using different tools: a hammer and chisel, a circular saw and a router. I know, a router isn`t a must-have home appliance but if you are an eager DIYer – it`s a very handy tool.
Cut the shelves to the size of the opening minus 2 mm (a sliding gap). Sand it.
Measure the notch (max 3/8″ (10 mm) from the edge), mark it with a simple pencil.
Select an appropriate premium quality (for firm wood) router bit. In our case it would be a straight 3/8″ (10 mm) bit.
Set the depth (17 mm in our case) on the router and plunge down into your wood piece until you have created the notch you want.
Move the router along the mark you made. Frankly, it was a tough job, and I spoiled the first shelf. But practice makes perfect, so it`ll be Ok after making a couple of dozens of such shelves 😆
Whew, it`s OK if the outer edge isn`t perfect 🙂
Paint the shelves. Then just put them on the open slides and screw them together (make pilot holes through the holes of the sliders with a small drill – this will ease the screwing process). I used tiny 3/8″ (10 mm) screws.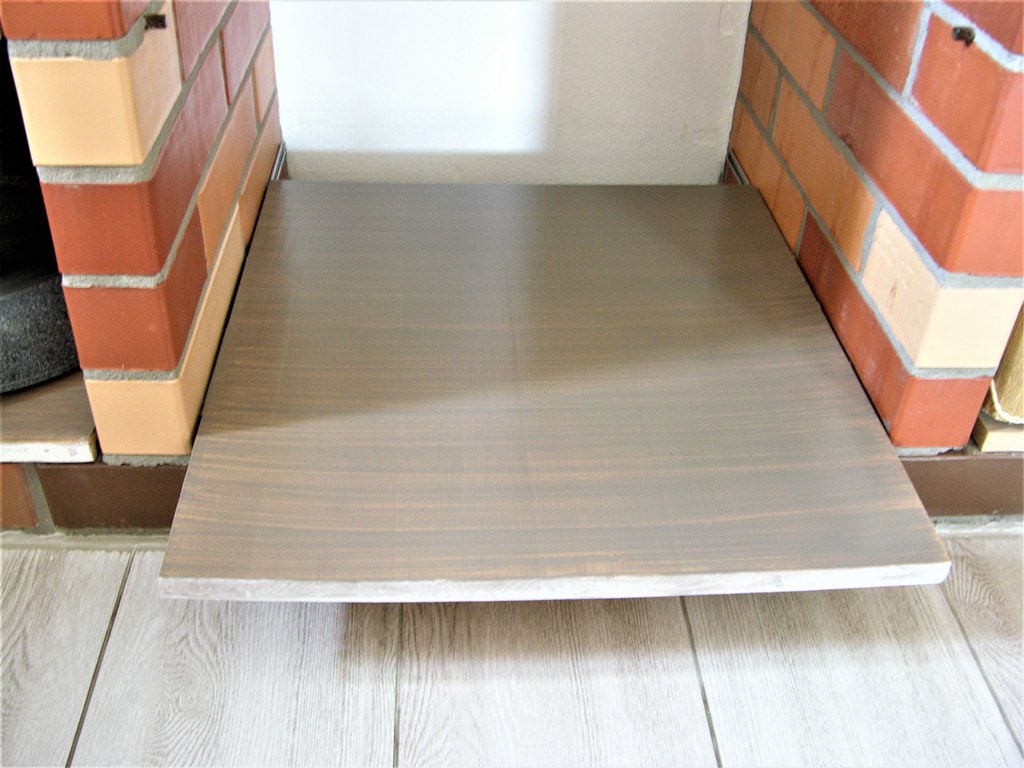 I use my favourite kitchen machine every second day and now it`s much more easier to get it out of that lowest shelf.
How do you like this idea of slide-out open shelves?