About
Hello, I`m Kinga and I welcome you to this tiny cosy nook, where every DIY project is more than possible!  Thank you for stopping by!
I`m a mum to a wonderful 6-year old boy David, I`m also a bit of a designer, builder, constructor (Legos mostly, kidding), a carpenter, plumber, electrician, a locksmith, all-the-woods-in-the-world grinder, not yet a welder (working on it), traumatologist (no wonder), archaeologist (when finding some rubbish while gardening and landscaping the backyard), psychologist, chief executive and self-assistant, a housekeeper, geography/history teacher, a life-long student. . . whew. . . oh, and, not much of it, but a wife.
Update 16/09/2021: yet a welder too.
But first and foremost I`m a mum. A mum who tries her best to make her son`s childhood happy, interesting, informative, healthy and comfortable.
Decorating, making furniture, recycling, upcycling, doing some small home repairs and gardening has been an essential part of my life since my family moved from a flat to a house (I was twelve). When I was sixteen, I painted the walls, made the flooring and the storage in my room. When I was nineteen I made a bathroom vanity from an old table with new legs and a mosaic tile top.
I like natural materials and tend to use mostly just them at our home.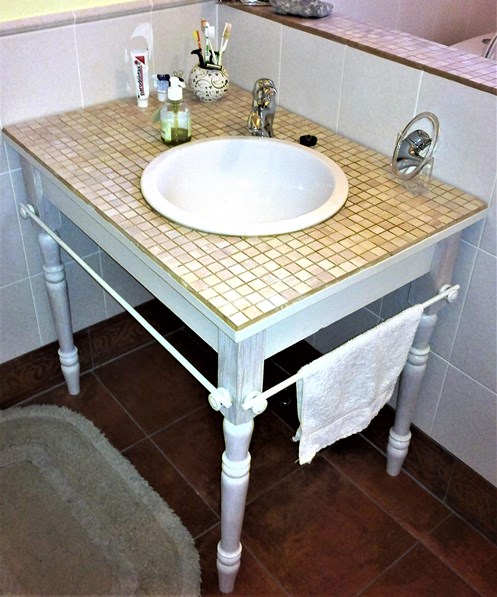 When I was twenty two we started to build our house. . .
I`d like to make it our endearing home.
I`d like to share with you, how I`m attaining it with less money – more love and a bit of inventiveness. And I would also like to hear about your experience, and maybe implement it into my home, and maybe help those, who doesn`t have any experience at all.
May not all of my photos be pinterest-worthy, or may I just be a bad photoshoper 🙂 I just try to make my family`s routine easier, ordinary things more practical and create the joy-inducing aesthetic environment.
You won`t find here step-by-step tutorials. This is a place of experiments and opportunities, a place, where you probably can find answers to your questions, where you won`t hear "it is not supposed to be done that way" or "people don`t do that" or "this is the only right way to be done". A place, where you can see for yourself that finding great deals is quite easy and not that time consuming, that quality products can be found for a fair price, that you can save money on some things to splurge on others that make you really happy.
I just love my home. I love to spend time here. And I would like to show you that a beautiful, cosy and beloved home doesn`t require tons of money. I`d like to encourage you to start and keep walking on this wonderful path of doing something on your own, enjoy it and be proud of yourself.
Oh, and please don`t take everything written here too serious, I'm just kidding around sometimes, DIY should be fun 😉